Experience Old World Germany
Willkommen To Bavaria Sausage!


Makers Of Old World German Sausage
ALERT.. PLEASE READ BELOW
Dear Customers, WE ARE STILL SHIPPING!!!!
Due to the growing developments of COVID-19 that are happening every day, we have decided for the health and well-being of our staff and customers that we are going to be closing our retail store until further notice. Doing Curbside- call in orders only! We will still be shipping on days of Monday, Tuesday, and Wednesday. With that being said, we will only be available for phone calls on those days. Thank you for your understanding as we are doing this to keep all of you, our staff, and the community as healthy as we can.
MON CHERI ON SALE! & Kuhne Mustards!
All Bratwurst on SALE 15% OFF use Code GRILL
You will recieve updates, tracking information, and confirmations in your email (Check Spam Folders) when your order is shipped. Thank you.
PLEASE DO NOT PICK USPS FOR PERISHABLES, GLASS or LIQUIDS
CHECK SUPER SALE ITEMS: ON SALE SECTION!
We also have the right to substitute a item for greater or equal value unless it is specified in the special instructions box on the check out page.
Don't see what you want? Use our Search Page, or see our Complete List of categories
We will not be responsible for products that spoil due to natural disasters or Weather Delays.
Recommended items
---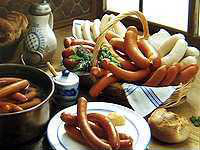 Authentic As It Gets
Authentic as it gets because that's the only way our Bavarian Master Sausage makers know how to make Old world German sausage! Made right here in our sparkling clean USDA Federally inspected "Wurstkuche" (sausage kitchen) in Madison Wisconsin.
No Artificial colors, flavors, gluten, fillers, liquid smoke, additives, preservatives (except for nitrite in our smoked products) or chemicals and NO MSG are ever used in our products.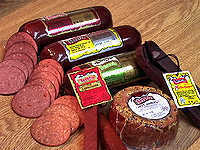 "A TASTE FROM HOME! "
Family owned and operated for over 53 years, we use Old world family recipes that were brought to this country from Schweinfurt Germany, and are still mixed by hand from traditional bulk spices. By using only the finest and freshest ingredients, we are able to guarantee Authentic products with a true taste from the "Old Country".
"Einen Guten Appetit!"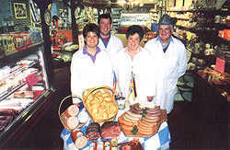 From Our Kitchen To Yours - items like Munich Weisswurst, Nurnberger Bratwurst, Knackwurst, Leberkase, Sauerbraten and so much more - we also offer everything you need to compliment these Old World German meat products, such as Brotchen and Pretzels from Munich, kraut, cheese, mustards, etc. Over 1,500 products are available to order online!

When visiting Madison Wisconsin, be sure to stop in our Bavarian Chalet, where we look forward to greeting and serving you with our finest German hospitality. Whether ordering from our secure online shop, or in our retail meat market, we want to make your "Old World Germany" experience a memorable one!
WALK THRU OUR VIRTUAL STORE HERE IN MADISON WISCONSIN!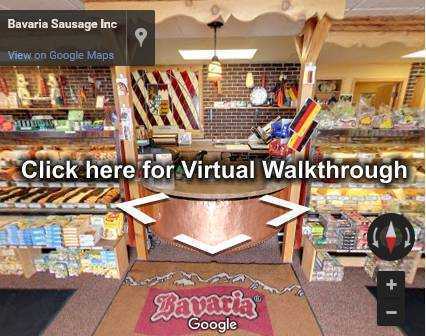 AUTHENTIC OLD WORLD GERMAN SAUSAGE, perfect for Oktoberfest / Octoberfest celebrations, from Our Kitchen to Yours! Over 1,000 Authentic German Foods and Specialty German Meat Products, including Munich Weisswurst, Rouladen, Sauerbraten, Schnitzel and Leberkase, and Hundreds of Wisconsin Cheeses & Imports, available for shipping within the U.S., from the Bavaria Sausage Secure Online Shop!
The 50 year tradition of "Just Pure Meat" is a key factor for satisfied Retail and Wholesale customers of Bavaria Sausage & Cheese Chalet, of Madison, Wisconsin. Bavaria Sausage, Inc. has been recognized throughout the Meat Industry for Superior Quality Hand-Crafted Meat Products and are known throughout the country for their High Standards as Producers of Specialty German Summer Sausage, Bratwurst (Weisswurst, Knackwurst, Wieners, Nurnberger & Rostbratwurst), and Landjaeger.
Wholesale is available to Restaurants, Country Clubs, Schools, Clubs, Fundraisers and small Mom and Pop stores. We will never sell our products to Big Box stores.