Attention Customers, We cannot stress more to make your shipping orders large enough to compensate the air shipping cost that is put in place due to the temperatures. IF your state is having temperatures over 85 degrees, we highly recommend OVERNIGHT delivery to protect your product. We do ship frozen in a cooler box with ice but ice and frozen products only last so long when battling the heat. If you did not pick overnight and we feel that it is needed to change it to overnight due to your temps we will automatically change the shipping and the cost will be added at the time of sending.We ship in the order that orders are recieved in and only Monday through Wednesday. We appreciate all your orders and are hoping to get your product to you in the best condition that we can.If you choose Ground, you are 100% responsible for the condition of your order when it arrives.$3.50 Coupon Available For Order $55 Or More. Use Code SUMMER $5.00 Coupon -Spend $100 use code FLOWERS OUR Store is open - Monday through Fridays 9-5.

Shopping cart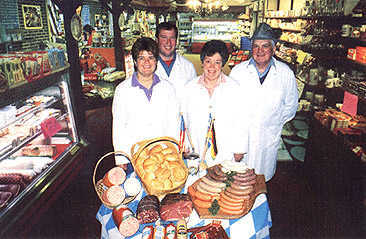 AUTHENTIC OLD WORLD GERMAN SAUSAGE, perfect for Oktoberfest / Octoberfest celebrations, from Our Kitchen to Yours! Over 1,000 Authentic German Foods and Specialty German Meat Products, including Munich Weisswurst, Rouladen, Sauerbraten, Schnitzel and Leberkase, and Hundreds of Wisconsin Cheeses and Imports, available for shipping within the U.S., from the Bavaria Sausage Secure Online Shop! Or Phone: 1-800-733-6695 for details!
Page Summary: Information about Bavaria Sausage & Cheese Chalet, of Madison, Wisconsin, 53719. The Bavaria Sausage Kitchen, Inc. has been recognized throughout the Meat Industry for Superior Quality Hand-Crafted Meat Products and are known throughout the country for their High Standards as Producers of Specialty German Summer Sausage, Bratwurst (Weisswurst, Knackwurst, Wieners, Nurnberg & Heidelburg Bratwurst!), and Landjaeger Snacking Jerky.