ATTENTION: Holiday volume, Weather Delays, Product supply and the fact that we are a small family operation, we cannot guarantee orders. We make no holiday shipping Guarantees. WE OFFER NO GUARANTEES! We ship in the order the orders are receieved in. Please do not assume your order goes out the day you put it in or even within a few days after. We are very busy with all orders and we are doing the best we can. We will ship till we cannot anymore with holiday schedule. Thank you so much for all your business and happy holidays to all!
We have put the majority of closer states on Ground Shipping. Please note that Ground is experiencing delays and are not guaranteed for on time delivery. Your product may arrive thawed but it is okay to refreeze. If you choose Ground, you are 100% responsible for the condition of your order when it arrives. IF you want to be more assured, please still pick the Air Shipment options. Air shipments may still arrive a day late but should not be later than that.
Also Note : As of July 2019, we will no longer be crediting back $ for non-perishable and some perishable products that come in with short or expired dates. Because of Covid, containers have been coming in months late. They will go months past the date and we have zero control over this.
Also note our retail store is open - Monday through Fridays 9-5. Saturday December 4th, 11th, and 18th we will be open from 9-3. Thank you

Shopping cart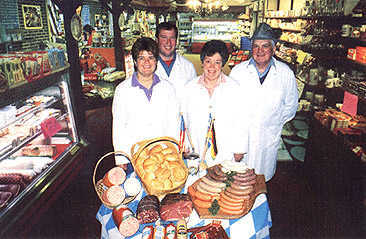 AUTHENTIC OLD WORLD GERMAN SAUSAGE, perfect for Oktoberfest / Octoberfest celebrations, from Our Kitchen to Yours! Over 1,000 Authentic German Foods and Specialty German Meat Products, including Munich Weisswurst, Rouladen, Sauerbraten, Schnitzel and Leberkase, and Hundreds of Wisconsin Cheeses and Imports, available for shipping within the U.S., from the Bavaria Sausage Secure Online Shop! Or Phone: 1-800-733-6695 for details!
Page Summary: Information about Bavaria Sausage & Cheese Chalet, of Madison, Wisconsin, 53719. The Bavaria Sausage Kitchen, Inc. has been recognized throughout the Meat Industry for Superior Quality Hand-Crafted Meat Products and are known throughout the country for their High Standards as Producers of Specialty German Summer Sausage, Bratwurst (Weisswurst, Knackwurst, Wieners, Nurnberg & Heidelburg Bratwurst!), and Landjaeger Snacking Jerky.