Orders may take 1-2 weeks to go out. Orders may be waiting for imports to arrive. All orders are shipped in the order that they are received. Also note that 2 day air or overnight does not mean it will ship within two days of order placement, that is the only way we are shipping. Please DO NOT call or email about the status of your order you will be emailed tracking information when your order ships. Thank you.

Shopping cart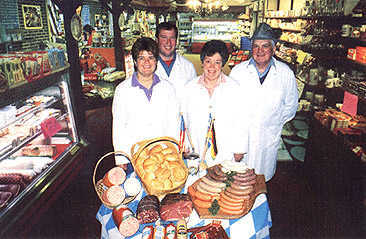 AUTHENTIC OLD WORLD GERMAN SAUSAGE, perfect for Oktoberfest / Octoberfest celebrations, from Our Kitchen to Yours! Over 1,000 Authentic German Foods and Specialty German Meat Products, including Munich Weisswurst, Rouladen, Sauerbraten, Schnitzel and Leberkase, and Hundreds of Wisconsin Cheeses and Imports, available for shipping within the U.S., from the Bavaria Sausage Secure Online Shop! Or Phone: 1-800-733-6695 for details!
Page Summary: Information about Bavaria Sausage & Cheese Chalet, of Madison, Wisconsin, 53719. The Bavaria Sausage Kitchen, Inc. has been recognized throughout the Meat Industry for Superior Quality Hand-Crafted Meat Products and are known throughout the country for their High Standards as Producers of Specialty German Summer Sausage, Bratwurst (Weisswurst, Knackwurst, Wieners, Nurnberg & Heidelburg Bratwurst!), and Landjaeger Snacking Jerky.