Please note the customer is 100% responsible for the condition of the order when it arrives (Ground makes no guarantees). Air options are available. IF product arrives thawed, it is OKAY to refreeze. Product may arrive on the weekend.** Due to import issues, we are not responsbile for short or out of date products. Product will go long past the dates on packages and many items are coming in with date issues.
25% OFF ENTIRE LIQUOR CATAGORY-USE CODE CHEERS
15% OFF ALL T-SHIRTS & STEINS USE CODE SHIRT
OUR Store is open - Monday through Fridays 9-5.

Shopping cart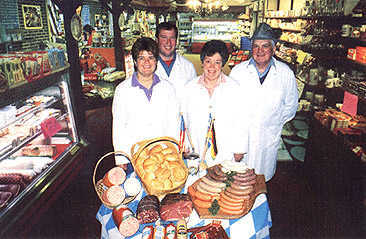 AUTHENTIC OLD WORLD GERMAN SAUSAGE, perfect for Oktoberfest / Octoberfest celebrations, from Our Kitchen to Yours! Over 1,000 Authentic German Foods and Specialty German Meat Products, including Munich Weisswurst, Rouladen, Sauerbraten, Schnitzel and Leberkase, and Hundreds of Wisconsin Cheeses and Imports, available for shipping within the U.S., from the Bavaria Sausage Secure Online Shop! Or Phone: 1-800-733-6695 for details!
Page Summary: Information about Bavaria Sausage & Cheese Chalet, of Madison, Wisconsin, 53719. The Bavaria Sausage Kitchen, Inc. has been recognized throughout the Meat Industry for Superior Quality Hand-Crafted Meat Products and are known throughout the country for their High Standards as Producers of Specialty German Summer Sausage, Bratwurst (Weisswurst, Knackwurst, Wieners, Nurnberg & Heidelburg Bratwurst!), and Landjaeger Snacking Jerky.