Attention Customers, We cannot stress more to make your shipping orders large enough to compensate the air shipping cost that is put in place due to the temperatures. IF your state is having temperatures over 85 degrees, we highly recommend OVERNIGHT delivery to protect your product. We do ship frozen in a cooler box with ice but ice and frozen products only last so long when battling the heat. If you did not pick overnight and we feel that it is needed to change it to overnight due to your temps we will automatically change the shipping and the cost will be added at the time of sending. We appreciate all your orders and are hoping to get your product to you in the best condition that we can.If you choose Ground, you are 100% responsible for the condition of your order when it arrives.$3.50 Coupon Available For Order $55 Or More. Use Code SPRING $5.00 Coupon -Spend $100 use code FLOWERS25 % OFF ALL LIQUOR CHOCOLATES USE CODE YUMMY OUR Store is open - Monday through Fridays 9-5.
Benefits & Features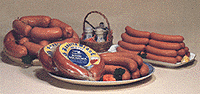 The most important feature about our products is that we only make a very high quality sausage. We use no fillers, additives, artificial coloring, liquid smoke, or msg.
Our summer sausage is a fermented product that has no water in it. All the products we make are extremely lean. Many different sizes and weights are available.
One of the Benefits of working with Bavaria is that we are a small family business making only high quality products..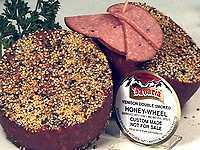 We do not have a minimum order. We will never make products that are sold in Big Box Stores. We also will never mass produce our products.
We will not be responsible for products that spoil due to natural disasters or Weather Delays.