Attention Customers: IF your state is having temperatures over 85 degrees, we highly recommend OVERNIGHT delivery to protect your productt. We do ship frozen in a cooler box with ice but ice and frozen products only last so long when battling the heat. We have turned the majority of the East Coast states on Ground shipping. If you still wish to have it be sent air, please choose so and we will not change it. We ship in the order that orders are recieved in and only Monday through Wednesday. We appreciate all your orders and are hoping to get your product to you in the best condition that we can. If having a party - PLEASE PLAN AHEAD.If you choose Ground, you are 100% responsible for the condition of your order when it arrives.$3.50 Coupon Available For Order $55 Or More. Use Code FALL $5.00 Coupon -Spend $100 use code OKTOBERFEST OUR Store is open - Monday through Fridays 9-5.
Customer Feedback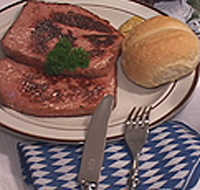 WE appreciate all comments from our customers. What can we do better, what products would you like, how did you like our products. Packaging. All feedback is appreciated
Please complete and submit the form below to contact us regarding your experience with Bavaria.
We appreciate any feedback, suggestions, or products you are in search of.
Bavaria Sausage, Inc.
6317 Nesbitt Road
Madison, WI 53719
Store Hours: M-F 9 AM to 5 PM and Sat. 8 AM to 1 PM.
608.271.1295
1-800-733-6695
Fax: 608-845-6693
E-mail: bavaria@bavariasausage.com
Monday-Friday 9-5 Saturday 8-1
Please complete all required fields.