Quality Wild Game Processing for over 50 years, we do this the "Old World Way"
Let Bavaria Turn Your Game Into a Flavorful Delicacy!
Please note: This is not a requirement but if you are choosing to get your venision CWD tested - Please make sure you have your results back before bringing in your venison meat. We will not accept it if results are still in progress. We will ONLY accept clean, lean & de-fatted wild game meat. We NO LONGER process waterfowl. Game we except:
Deer / Venison
Elk
Bear
Antelope
Wild Boar
Mule Deer
Caribou
Moose
Venison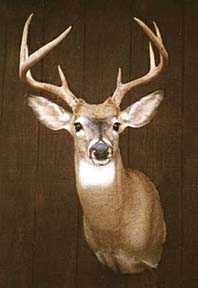 Custom Made Wild Game Processing
NOT FOR RETAIL SALE
Please Note: We will only accept CLEAN and LEAN meat - Absolutely No BONES or Excessive FAT or Tallow. WE CAN ONLY MAKE GOOD SAUSAGE FROM GOOD CLEAN MEAT!! Please bring in bags!!
If you can't find anyone to cut up your deer, Watch a Youtube video and it will show you how to do it. It's getting hard to find people.
The products in this category are NOT FOR RETAIL SALE and are displayed solely for the educational purposes of customers wishing to have CUSTOM MADE PRODUCTS processed from their own Venison & Wild Game.
Bavaria Sausage has been in the processing business for OVER 50 years; Hunters from all across the U.S. have been shipping and bringing in their Boneless Venison, Elk, Caribou, Moose, Bear, etc., to have a Superior Quality Product produced.

Bavaria Sausage is NOT a locker plant.

We are a FEDERALLY INSPECTED German traditional Sausage Kitchen.We make your products the old fashioned European way, the way it should be made! We use only fresh lean meat in all of our products. We do NOT use any fillers, additives, by products, artificial colors, Gluten or liquid smoke--NO MSG--EVER, PERIOD.

The products we produce are pure and delicious! All of our products come professionally and individually labeled and air-sealed, boxed 'ready for your freezer. Most of our products average about $3.79 per lb. finished product.
NOTE! We can't finish your order in 1-4 weeks!! We are extreamly busy-and quality takes time! You must allow 2-4 months!!

Live Customer Service always available during regular Retail Store Hours:
Monday thru Friday 9 am to 5 pm

If you have any questions about our venison, elk, bear or other wild game processing, please feel free to call us with your concerns at 1-800-733-6695 1-800-733-6695 or use our Contact Form to send an email with your comments.

WILD GAME PRODUCTS MADE FOR YOU


(CUSTOM MADE NOT FOR SALE)
The following products are examples of the finished product when we process your wild game. They will come vac-sealed, labeled and ready for the freezer. Average price of $3.79 lb. Some products have extra charges.

Deluxe Smoked Venison Summer Sausage (Our Original)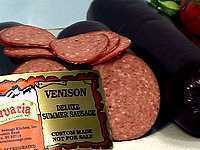 This is our most popular Venison product. This sausage comes in an 18 oz. Cryovac (Air-Sealed) Stick. Very Lean, all natural spices, natural hickory smoked, no water added product. No MSG. This product will keep 6-8 months in your refrigerator and over 2 years in your freezer! You can take the plastic wrap off and let lay in the fridge. They will age and dry! The flavor will enhance
---
Deluxe Smoked Garlic Venison Summer Sausage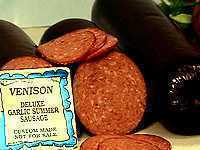 Very Lean, all natural spices, hickory smoked and natural spices. (NO MSG!). 18 oz. Air-sealed stick. If you enjoy just a touch more Garlic then this is the Sausage to try! You can take the plastic wrap off and let lay in the fridge. They will age and dry!
---
Smoked Pfefferwurst Venison Summer Sausage (Brazill Peppers)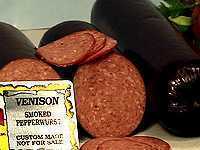 Made with Red & Green Brazilian Peppers added for that extra flavor and spice. 'Great tasting, yet NOT hot! No fillers, additives, water or MSG is ever used.18 oz. Air-sealed Stick. You'll definitely want to try this one!
---
Double Smoked Venison Honey Wheel Sausage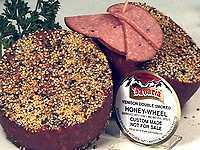 10 oz. Venison Sausage Chub basted in Honey Mustard and special spices! Double Hickory Smoked for that added natural smokey flavor. Number 1 requested item for Party Hors d'oerves and slicing for subs and sandwiches! Something fun and different for your guests!
---
Cheddi Venison Summer Sausage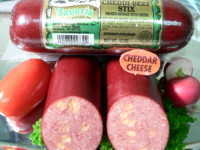 Creamy cheddar cheese added to your summer sausage. This makes a super good combination. 18oz sticks and vac. sealed. Ready for the freezer. Will keep several months in the refrigerator or up to 1-2 years in the Freezer. Extra charges do apply for the cheese
---
Old Fashioned Venison Summer Sausage (Natural Casing)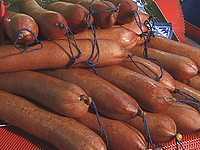 1 lb. average stick NOT Air-Sealed. This is a natural casing summer so that you can age this as hard as you like for more flavor and great taste! 'Just hang this in a cool place to air dry and age. The more you age it the more the spices will come out!. If you like aged dried summer sausage, you will love this one!
---
Old Fashion Venison Ring Bologna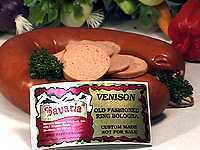 1 lb. average Air-Sealed Ring. Another BIG favorite that is most requested! Fully cooked. Just heat and serve to compliment any meal--OR--try it cold, grilled, or steamed. Excellent quick meal when served with fried potatoes! Very Lean & Hickory Smoked.
---
Cured & Smoked Venison Bratwurst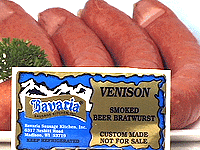 4-5 Brats per 1 lb. vacuum package. These brats are fully cooked and ready for the grill, frying pan or cut up into your favorite soup, salad, or casserole hot dish! Brat Reuben: Grill or Fry, Butterfly the Brat open, Serve on a Hamburger Bun with Sauerkraut and Swiss Cheese--.
---
Smoked Venison Polish Bratwurst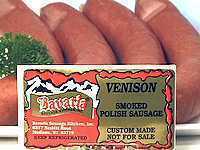 4-5 Brats per 1 lb. Vacuum-Sealed package. Fully cooked and Grill Ready! Or can be used to spice up soups, salads, and any favorite Hot dish. These are especially made for those of you who LOVE Garlic!
---
Pre-Cooked Bavaria Venison Bratwurst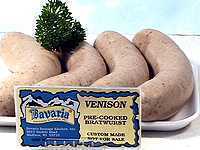 4-5 Brats per vac-pack (Air-sealed) Package. These Brats are ready for the grill WITHOUT any par-boiling. Try them in an open-faced bun for a great new sandwich sensation! Add condiments to taste! ('Spicy German Mustard works GREAT!)
---
Pre-Cooked Italian Venison Bratwurst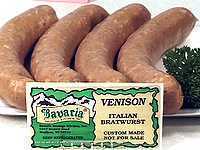 4-5 bratwurst per air sealed package. These brats are fully cooked and ready for the grill or frying pan. Also great cut up in Italian sauces and pasta dishes. Not hot, but spiced just right!!
---
Old Fashioned Venison Wieners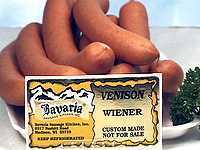 8 to 10 wieners per cry-o-vac package. (Air-sealed for freshness). Mildly spiced and the whole family will just love 'em! We use our special German seasonings to give them that "Old World Goodness" and that "Old-Fashioned wholesome Flavor".
---
Venison Breakfast Sausage-
Our Venison Breakfast Sausage is mildly spiced and perfect for breakfast patties! Packed in 1 1/4 lb. bulk plastic packages -- great size for most family breakfasts! Makes great breakfast sandwiches, too! Great to take camping, too.
---
Venison Liver Sausage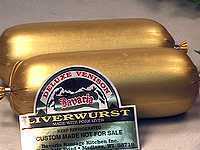 A Super CREAMY liver sausage. Packed in 1 lb. vacuum stuffed tubes. Mildly spiced and super creamy "Braunschweiger" This is sure to be a big hit for those who love liver sausage!! Ship us your Venison and try some!
---
Original Venison Landjager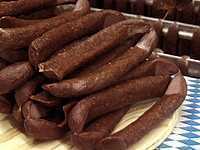 Our Original Venison Landjager is one of Bavaria's MOST REQUESTED Venison products. 'Makes a great snack idea-- Lean, all meat, semi-dry product! Take this wonderful meat snack camping, backpacking, hiking, fishing and you name it! Kids love the flavorful chewy goodness in every bite! This comes Bulk Packaged in a box that comes with a freezer-ready bag for longer storage. 'Bet they don't last that long once the whole family tries 'em! Comes cryo, 10 pair per sealed unit. 50 pair per box. These cost you about $1.18 cents a pair or $58.90 a box
---
Venison Pfefferjager Landjager (Brazil Pepper)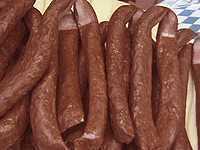 Comes by the pair. They are about 6 inches long each. Made with red and green Brazilian peppers. Spicy but not hot. A little something different in a snack stick! They come 50 pair to a box. Cryo, 10 pair per unit. Freeze, then take out what you need, and age on a hanger. The harder they are the more spicy.
---
Ground Venison Burger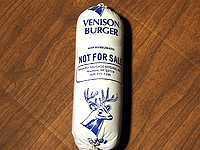 Our Venison burger is Excellent!! Super lean, like ground chuck. Mixed with beef and pork and vacuum stuffed into 1-1 1/2 lb tubes Keeps 1-2 years in the freezer. NO SUET is ever added to our burger. Average price is around $2.59 lb.
---
---
---
NOTICE!!!!
The venison products average about $3.79lb. A few of the products will have separate charges. Landjagers run you $1.18 cents a pair or $58.90 per box of 50 pair. These are now cry-o-vac 10 pair per cryo unit.