With order volume exceeding Holiday levels due to the Covid-19 pandemic, it will take up to a week or more to ship your order. Please try NOT to call about your order, and instead use the Order Status and Order Tracking links to check the status and track the shipment of your order. We apologize for any inconvenience, and Thank You for your business and patience.
Venison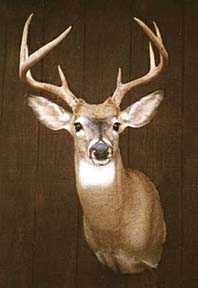 Custom Made Wild Game Processing
NOT FOR RETAIL SALE
Please Note: We will only accept CLEAN and LEAN meat - Absolutely No BONES or Excessive FAT or Tallow. WE CAN ONLY MAKE GOOD SAUSAGE FROM GOOD CLEAN MEAT!!
IF YOU NEED A GUY TO BONE YOUR DEER OUT PLEASE CALL LARRY 608-274-1715 HE LIVES IN FITCHBURG AND CHARGES $85.00
The products in this category are NOT FOR RETAIL SALE and are displayed solely for the educational purposes of customers wishing to have CUSTOM MADE PRODUCTS processed from their own Venison & Wild Game.
Bavaria Sausage has been in the processing business for OVER 50 years; Hunters from all across the U.S. have been shipping and bringing in their Boneless Venison, Elk, Caribou, Moose, Bear, etc., to have a Superior Quality Product produced.

Bavaria Sausage is NOT a locker plant.
We are a FEDERALLY INSPECTED Sausage Kitchen. We use only fresh lean meat in all of our products. We do NOT use any fillers, additives, by products, artificial colors, Gluten or liquid smoke--NO MSG--EVER, PERIOD.
The products we produce are pure and delicious! All of our products come professionally and individually labeled and air-sealed, boxed 'ready for your freezer. Most of our products average about $2.80 per lb. finished product.

Live Customer Service always available during regular Retail Store Hours:
Monday thru Friday 9 am to 5 pm
Saturday 8 am to 1 pm CST (Central Standard Time)